Reading Time:
8
minutes
If you've read my wrap-up post, you know June was not the best month for me in terms of reading. However, I am determined to change that in July. Goodreads tells me I'm 14 books behind schedule, which means I better start catching up – otherwise, I'll never reach my goal for the year! 😔
This being said, I've tried to come up with a strategy: finish the books I've already started and read shorter books. Sounds like it could help, right? We'll see!
---
Books I've Started
I'm about halfway through The Night Women by Sara Blædel, but since I'm in a slump, I havent been able to read much of it. I'm lucky if I get 20 pages each day 😩
However, I'm really enjoying this, so I am definitely going to finish it in the next few days!
Synopsis
A journey to a new life or a prison of despair and death? A shocking murder on Copenhagen's idyllic streets and an abandoned child reveal a perverse criminal underworld that crosses international borders.
A young woman's body is found on the street with her throat slit, and the media is clamoring for the grisly details. Detective Louise Rick is investigating the gruesome murder when her friend Camilla Lind calls. Louise assumes it is because Camilla, a crime reporter, wants to be the first to hear of any juicy new developments. Instead, her distraught friend reveals that her ten-year-old son found an abandoned baby on his way to school.
As Louise digs deeper into the murder and the mysterious foundling, every clue uncovered points to organized human trafficking from Eastern Europe, run by ruthless gangsters who won't hesitate to kill anyone who gets in their way…
---
I started reading Around the World in 80 Days by Jules Verne, as it was the book chosen for a book club I'm a part of. I read about 70 pages of it and honestly, I wasn't really enjoying the read. I expected something completely different from what I got.
Even so, I still want to try and finish it. I'm not a fan of DNFing books so, usually, I just pause the read and then resume it whenever I feel like it. Let's see how that works out…
Synopsis
One ill-fated evening at the Reform Club, Phileas Fogg rashly bets his companions £20,000 that he can travel around the entire globe in just eighty days – and he is determined not to lose. Breaking the well-establised routine of his daily life, the reserved Englishman immediately sets off for Dover, accompanied by his hot-blooded French manservant Passepartout. Travelling by train, steamship, sailing boat, sledge and even elephant, they must overcome storms, kidnappings, natural disasters, Sioux attacks and the dogged Inspector Fix of Scotland Yard – who believes that Fogg has robbed the Bank of England – to win the extraordinary wager. Around the World in Eighty Days gripped audiences on its publication and remains hugely popular, combining exploration, adventure and a thrilling race against time.

Michael Glencross's lively translation is accompanied by an introduction by Brian Aldiss, which places Jules Verne's work in its literary and historical context. There is also a detailed chronology, notes and further reading.
---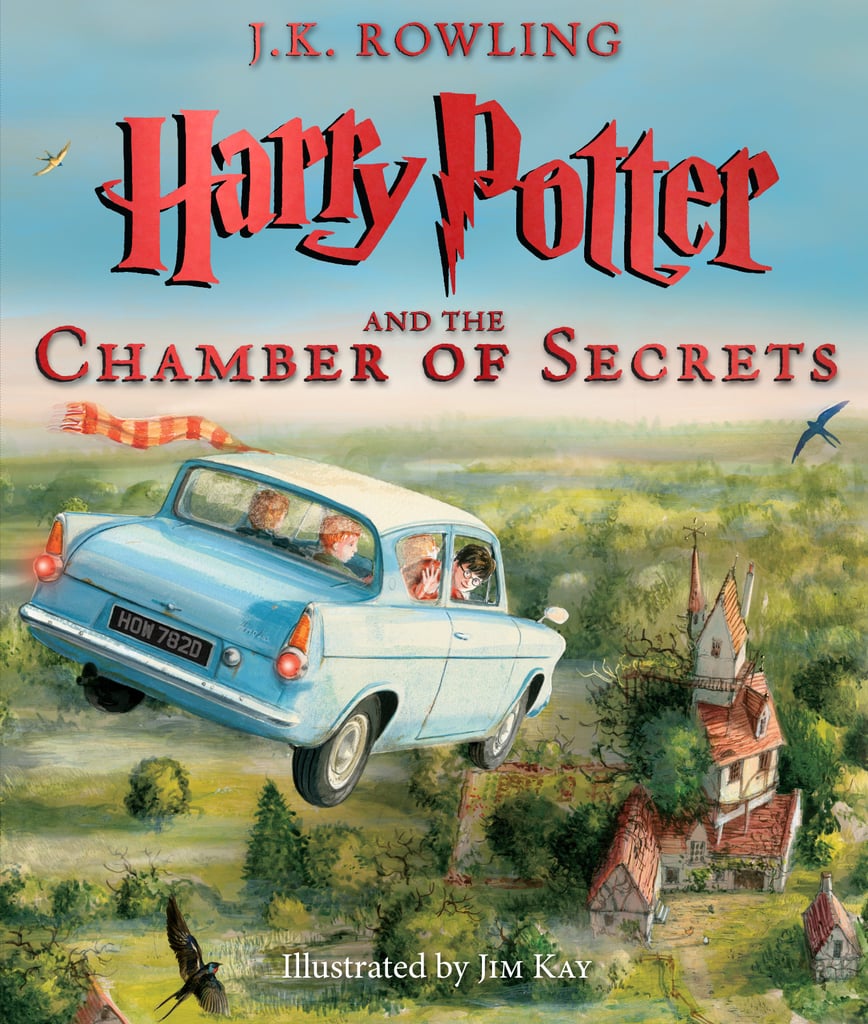 I got about a third of the way through Harry Potter and the Chamber of Secrets (illustrated edition) a few months ago, but then I never picked it back up… what the hell is wrong with me!?!?
No, I haven't read the Harry Potter series yet… I know, I'm an absolute disgrace!! I'll fix it, I swear 😅
Synopsis
The Dursleys were so mean and hideous that summer that all Harry Potter wanted was to get back to the Hogwarts School for Witchcraft and Wizardry. But just as he's packing his bags, Harry receives a warning from a strange, impish creature named Dobby who says that if Harry Potter returns to Hogwarts, disaster will strike

And strike it does. For in Harry's second year at Hogwarts, fresh torments and horrors arise, including an outrageously stuck-up new professor, Gilderoy Lockhart, a spirit named Moaning Myrtle who haunts the girls' bathroom, and the unwanted attentions of Ron Weasley's younger sister, Ginny.

But each of these seem minor annoyances when the real trouble begins, and someone — or something — starts turning Hogwarts students to stone. Could it be Draco Malfoy, a more poisonous rival than ever? Could it possibly be Hagrid, whose mysterious past is finally told? Or could it be the one everyone at Hogwarts most suspects . . . Harry Potter himself?
---
This one I picked up on a whim. I left my current read at home one day, so on my way to school I started reading Vengeance Road by Erin Bowman on my phone. I'd had the ebook for the longest time, so why not? I was actually enjoying it, but then other books got in the way and I never resumed my reading.
This is a very different read for me, considering it is a Western novel, set around the Gold Rush period. It's rather cowboy-ish, but I actually like it – it's refreshing!
Synopsis
Revenge is worth its weight in gold.

When her father is murdered for a journal revealing the location of a hidden gold mine, eighteen-year-old Kate Thompson disguises herself as a boy and takes to the gritty plains looking for answers—and justice. What she finds are untrustworthy strangers, endless dust and heat, and a surprising band of allies, among them a young Apache girl and a pair of stubborn brothers who refuse to quit riding in her shadow. But as Kate gets closer to the secrets about her family, a startling truth becomes clear: some men will stop at nothing to get their hands on gold, and Kate's quest for revenge may prove fatal.
---
Short-ish Reads
This one was sent to me by St. Martin's Press and I am SO PUMPED to read it, you have no idea. It seems that Sadie is a YA mystery? Sign me up! Also, everyone's been hyping it up, so I get more excited each day. My post for the blog tour is due on August 29th, so it'll be a while until it goes up, but I have to read it right now 😅
Synopsis
A missing girl on a journey of revenge and a Serial-like podcast following the clues she's left behind.

Sadie hasn't had an easy life. Growing up on her own, she's been raising her sister Mattie in an isolated small town, trying her best to provide a normal life and keep their heads above water.

But when Mattie is found dead, Sadie's entire world crumbles. After a somewhat botched police investigation, Sadie is determined to bring her sister's killer to justice and hits the road following a few meager clues to find him.

When West McCray—a radio personality working on a segment about small, forgotten towns in America—overhears Sadie's story at a local gas station, he becomes obsessed with finding the missing girl. He starts his own podcast as he tracks Sadie's journey, trying to figure out what happened, hoping to find her before it's too late.
---
Another book sent my way by St. Martin's Press – this one a bit more summery. Smothered comes out on August 7th and, from what I've gathered, it's about a woman who has to move back into her parents' house. In my opinion, chick-lits are 100% meant to be read in the summer, so that's exactly what I plan to do ♡
Synopsis
Eloise "Lou" Hansen is graduating from Columbia University summa cum laude, and she's ready to conquer the world. Just a few minor problems: she has no job, no prospects, and she's moving back into her childhood bedroom. Lou is grimly determined to stick to a rigorous schedule to get a job and get out of her parents' house. Shelly "Mama Shell" Hansen, on the other hand, is ecstatic, and just as determined to keep her at home. Who else will help her hide her latest binge-shopping purchases from her husband, go to SoulCycle with her, and hold her hand during Botox shots?

Smothered is a hilarious roman à clef told via journal entries, text messages, emails, bills, receipts, tweets, doctor's prescriptions, job applications and rejections, parking tickets, and pug pictures, chronicling the year that Lou moves back home after college. Told from Lou's point-of-view, Smothered tells the story of two young(ish) women, just trying to get it right, and learning that just because we all grow up doesn't mean we necessarily have to grow old. (After all, what is Juvaderm for?)
---
As I said in my Netgalley haul, I am auto-approved to read BlackSpot Books's titles, so I had to pick up And Then There Were Crows by Alcy Leyva when I saw it on there. This is a new release, it came out yesterday (July 3, 2018), so I really want to post my review soon.
So far, I've read positive reviews – apparently, it's very funny and heavy on profanity, so sign me up!!
Synopsis (a looooong one)
New York City has always been a big fat sack of stress for Amanda Grey. From turning herself into knots as she strives to evade rubbing ass cheeks with strangers on the train, to round-housing public bathroom door handles to stave off plague contaminations, Grey has always found the simple technique of avoidance best in dealing with NYC. What's always saved her–what's always served as her bastion from the City's bright lights and cat-calling construction workers–was the little one-bedroom apartment in Queens she's shared with her parents. Of course, that's all about to change.

When her parents go on an extended vacation and leave Grey to her own devices, she quickly manages to screw everything up, finding herself broke, behind on rent, and facing eviction. That's how fast life in the city goes: One second, your biggest concern is rising Metrocard costs and avoiding eye contact with creepy looking children. The next, you're nearly murdered by a man infested with demons, one of which you've rented your bedroom to, and before you know it you've set into motion the biblical apocalypse prophesized in the Book of Revelations–literally.

In one night, Grey goes from a woman concentrated on clamping down on her own personal demons to the woman responsible for recapturing the six Shades she's unleashed upon the city. To accomplish this, she must venture out into a society even more alien to her now than before–oh, and try to stay alive, too. She manages to survive by accepting the help of Barnem, a seraphim who just happens to reside in an upstairs apartment and also just so happens to be equally terrible at human interactions as she is. Oddly, the demon Grey now shares an apartment with also steps up to help her vanquish the Shades, though she can't be sure if it's out of roommate loyalty or a secret plot to enslave humankind. Probably the latter.

Together the unlikely trio faces a bevy of social demons, from navigating political warfare, to breaking the curse of infomercials, and figuring out exactly how Grey becomes the leader of a cult, or two. For Amanda Grey, it becomes harder and harder to tell the difference between the ills of society and the influence of the Shades. She begins to notice that living with her social anxieties makes her more sensitive to the oddities around her, which, ironically, seems to make her the perfect person to deal with the world's mounting weirdness. As Grey comes to be part of a society that has accepted the strange ways we communicate with each other, she questions if the "social sanity" she felt excluded from her entire life ever really existed in the first place.

With the capture of each Shade, Grey's world begins to open–from the possible love interest that just moved into her building, to re-establishing the failed relationship with her younger sister, Amanda quietly begins to notice that maybe an earth-shattering apocalypse.is exactly what her life needed. The only thing left to figure out is how to actually cope with the end of the world.
---
Alright y'all, that's all for today's post.
Granted, it is very likely that I will end up changing my TBR throughout the month – inconsistency is my middle name 🤷🏻‍♀️
Tags:
books
,
july tbr
,
reading
,
to be read