Reading Time:
5
minutes
This was started by the wonderful Lia @ Lost in a Story so don't forget to check her blog out!
How it works:
Go to your goodreads to-read shelf.
Order on ascending date added.
Take the first 5 (or 10 if you're feeling adventurous) books
Read the synopses of the books
Decide: keep it or should it go?
---
When Joss Met Matt by Ellie Cahill
Joss and Matt have been friends since freshman year of college, meeting one night after Joss is dumped by her boyfriend. After a few drinks, Matt humors her with a proposition: that he'll become her go-to guy whenever she needs to heal a broken heart. In return, she'll do the same for him. The #1 Rule: They'll never fall in love with each other. People scoff at the arrangement. But six years later, Joss and Matt are still the best of friends . . . with benefits.
 
Through a string of boyfriends and girlfriends—some almost perfect, some downright wrong—Joss and Matt are always there for each other when the going gets tough. No strings. No attachments. Piece of cake. No problem. After all, since they wrote the rules, surely they can play by them. Or can they?
✗ It's going
Through to You by Lauren Barnholdt
It starts with a scribbled note in class: I like your sparkle. Harper had casually threaded a piece of blue and silver tinsel through her ponytail in honor of school spirit day. And that carefree, corny gesture is what grabs Penn Mattingly's eye. Penn—resident heartbreaker of the senior class. Reliably unreliable. Trouble with a capital "T." And okay, smolderingly sexy.
Harper's surprised by Penn's attention—and so is Penn. The last thing he needs is a girlfriend. Or even a friend-with-benefits. The note is not supposed to lead to anything.
Oh, but it does. They hang out. They have fun. They talk. They make out. And after a while, it seems like they just click. But Penn and Harper have very different ideas about what relationships look like, in no small part because of their very different family backgrounds. Of course they could talk about these differences—if Penn knew how to talk about feelings.
Harper and Penn understand their attraction is illogical, yet something keeps pulling them together. It's like a crazy roller coaster—exhilarating, terrifying, and amazing all at once. And neither knows how to stop the ride…
✗ It's going
Burn for Burn by Jenny Han & Siobhan Vivian
Postcard-perfect Jar Island is home to charming tourist shops, pristine beaches, amazing oceanfront homes—and three girls secretly plotting revenge.
KAT is sick and tired of being bullied by her former best friend.
LILLIA has always looked out for her little sister, so when she discovers that one of her guy friends has been secretly hooking up with her, she's going to put a stop to it.
MARY is perpetually haunted by a traumatic event from years past, and the boy who's responsible has yet to get what's coming to him.
None of the girls can act on their revenge fantasies alone without being suspected. But together…anything is possible.
With an alliance in place, there will be no more "I wish I'd said…" or "If I could go back and do things differently…" These girls will show Jar Island that revenge is a dish best enjoyed together.
I am a huge fan of Jenny Han's books, and I actually already own Burn for Burn, so I'm going to give it a try, probably over the summer.
✓

Stays

The Jewel by Amy Ewing
The Jewel means wealth. The Jewel means beauty. The Jewel means royalty. But for girls like Violet, the Jewel means servitude. Not just any kind of servitude. Violet, born and raised in the Marsh, has been trained as a surrogate for the royalty—because in the Jewel the only thing more important than opulence is offspring.
Purchased at the surrogacy auction by the Duchess of the Lake and greeted with a slap to the face, Violet (now known only as #197) quickly learns of the brutal truths that lie beneath the Jewel's glittering facade: the cruelty, backstabbing, and hidden violence that have become the royal way of life.
Violet must accept the ugly realities of her existence… and try to stay alive. But then a forbidden romance erupts between Violet and a handsome gentleman hired as a companion to the Duchess's petulant niece. Though his presence makes life in the Jewel a bit brighter, the consequences of their illicit relationship will cost them both more than they bargained for.
✗ It's going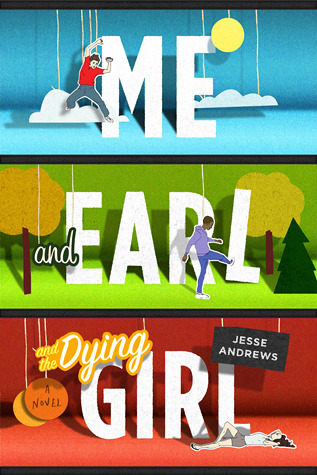 Me and Earl and the Dying Girl by Jesse Andrews
Greg Gaines is the last master of high school espionage, able to disappear at will into any social environment. He has only one friend, Earl, and together they spend their time making movies, their own incomprehensible versions of Coppola and Herzog cult classics.
Until Greg's mother forces him to rekindle his childhood friendship with Rachel.
Rachel has been diagnosed with leukemia—-cue extreme adolescent awkwardness—-but a parental mandate has been issued and must be obeyed. When Rachel stops treatment, Greg and Earl decide the thing to do is to make a film for her, which turns into the Worst Film Ever Made and becomes a turning point in each of their lives.
And all at once Greg must abandon invisibility and stand in the spotlight.
✗ It's going
---
It feels so good to remove books from your TBR! It's almost like you're lifting weight off your shoulders and letting go of some of the pressure when it comes to the 5 million books you were planning to read.
It also shows you how the hype surrounding books makes you add books you wouldn't like to your TBR, just because someone on Youtube said they're good 😀
I'm looking forward to cleaning up my whole TBR shelf ♡
---
Thank you for reading,
I'll see you in my next post ♡
Tags:
1922
,
50 day bookish challenge
,
50 day challenge
,
aeschylus
,
almost midnight
,
antigone
,
atonement
,
blog
,
blog literário
,
blogger
,
blogue
,
blogue de livros
,
blogue literário
,
book
,
book blog
,
book blogger
,
book hauls
,
book photography
,
book review
,
book reviewer
,
book tag
,
bookish
,
booklr
,
books
,
bookshelf
,
bookshelves
,
bookstagram
,
booktuber
,
bujo
,
bullet
,
bullet journal
,
crown of midnight
,
educating rita
,
ian mcewan
,
journal
,
lifestyle
,
literárias
,
literário
,
literatura
,
literature
,
livro
,
livros
,
music
,
new blog
,
new blogger
,
November
,
november wrap up
,
november wrapup
,
rainbow rowell
,
read
,
reader
,
reading
,
reads
,
resenha
,
resenhas
,
review
,
reviews
,
sarah j maas
,
seven against thebes
,
short story
,
sophocles
,
stephen king
,
throne of glass
,
willy russell
,
wrap up
,
wrapup